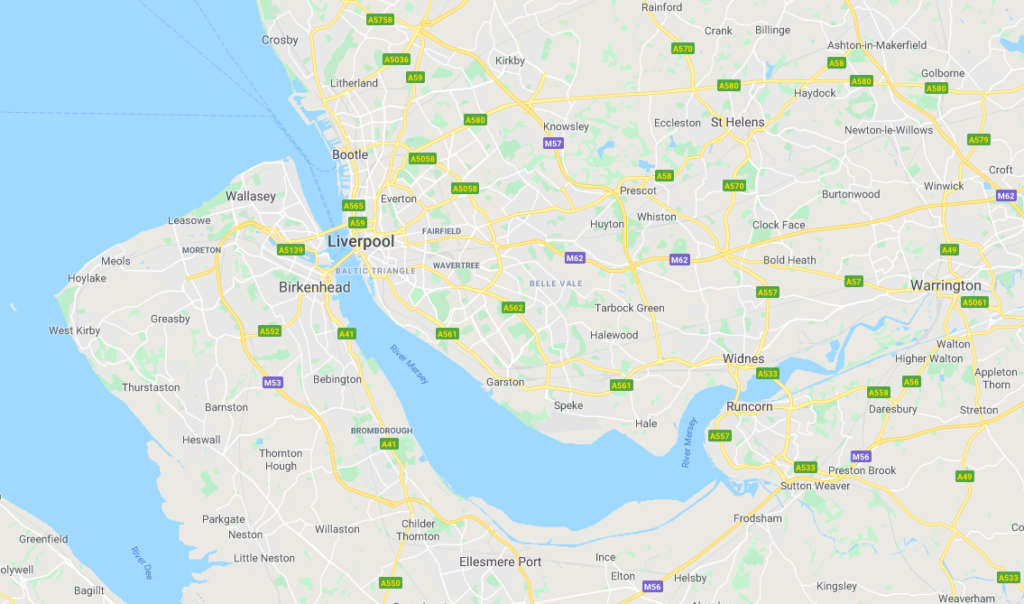 We cover the whole of the north west
Based in Wavertree, and work within a radius of 5 miles from this location that covers the map you see. We have a specific day for each postcode in liverpool. If you would like more information please feel free to call us.
E-mail may be preferred as we cant always answer our phones as we may be on the tools.
Regular residential window cleaning
"Had my first appointment today, absolutely brilliant! You will not find a better window cleaner in Liverpool. Extremely professional and friendly. Highly recommend!" – Kristofer Hahne

google review May 2020
We offer a regular, 4 weekly window cleaning service with easy online payments. A chemical Similar to what car washes use on parts like the wheels, will be utilised. We will always use purified water, which also clears the dirt and makes sure they dry spotless!
Gutter clearance
Please don't let them get blocked and cause you more expensive problems. water will ingress through the ceiling and damp through your walls. This can all be a voided and your money saved from expensive repairs. We always recommend you keep your gutters clear. Rainwater that hits your roof leads to the gutters to clear away from the house and down the drains. Otherwise this will cause damage to not only the upstairs ceilings and walls but to the foundations of the house. Leaving the gutters blocked is also extra weight and can start leaking and pulling away from the fascia boards.
We have two methods of cleaning out the gutters. Traditional ladder method when we access the gutters up close and personal and scoop out the dirt into a bucket. sometimes debris cannot be dislodged using the gutter vacuum.
The other method is the "gutter vacuum". its a fast and affective way. There are pros and cons to both methods but we will deal with all of them when we arrive. Minimising all the cons and promoting all the pros. NOTE: For buildings three stories and over we always used to go to vacuum putting our operators safety first.
Gutter, sofit & fascia cleaning
The whites aren't white anymore? We can clean these for you to make your house look like new again. We use our own caustic free industry standard chemical treatment to clean the dirt from your soffits and fascia's bringing the shimmer of reflection back. NOTE: customers have mistakenly painted there UPVC gutters and/or Sofits, in this case they will not come up like new. Discoloured plastics happen if not cleaned for a period of time. There is nothing we can do about this if they are severe.
Conservatory Roof cleaning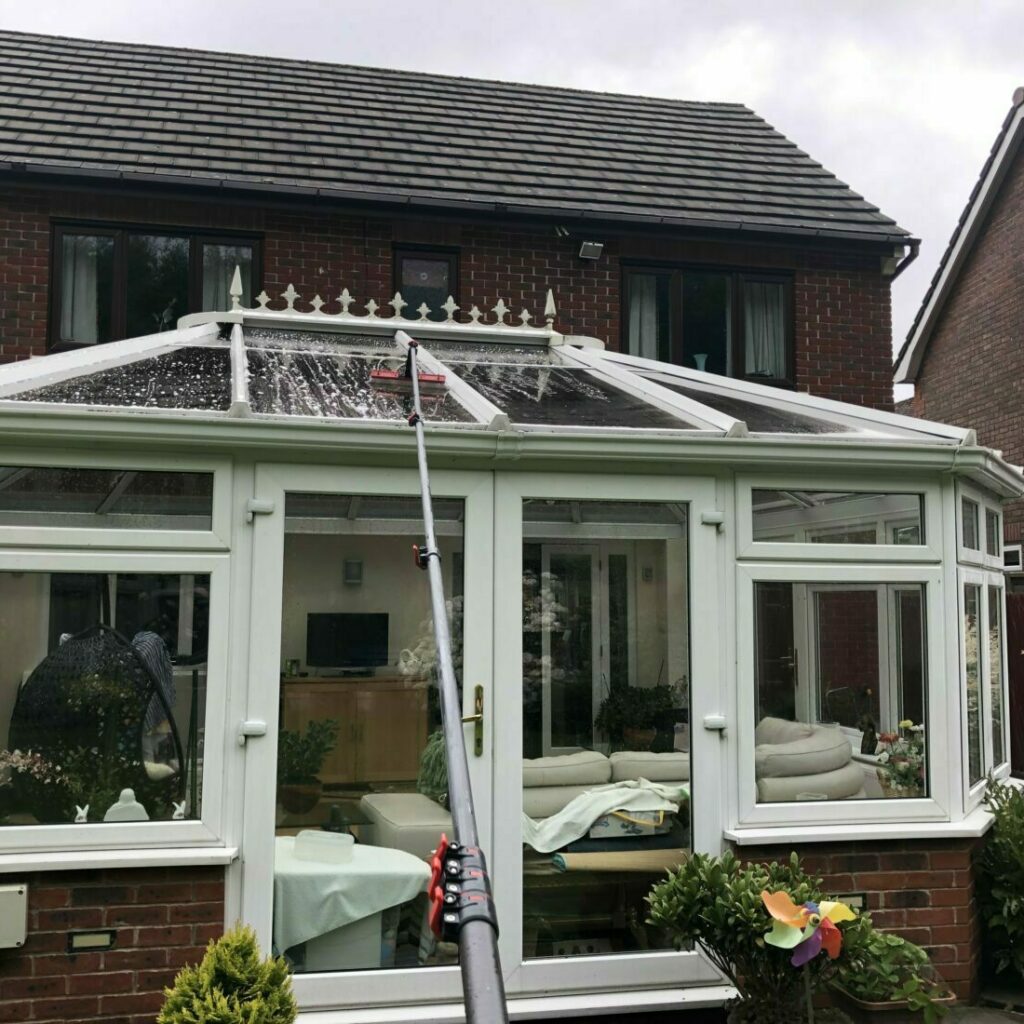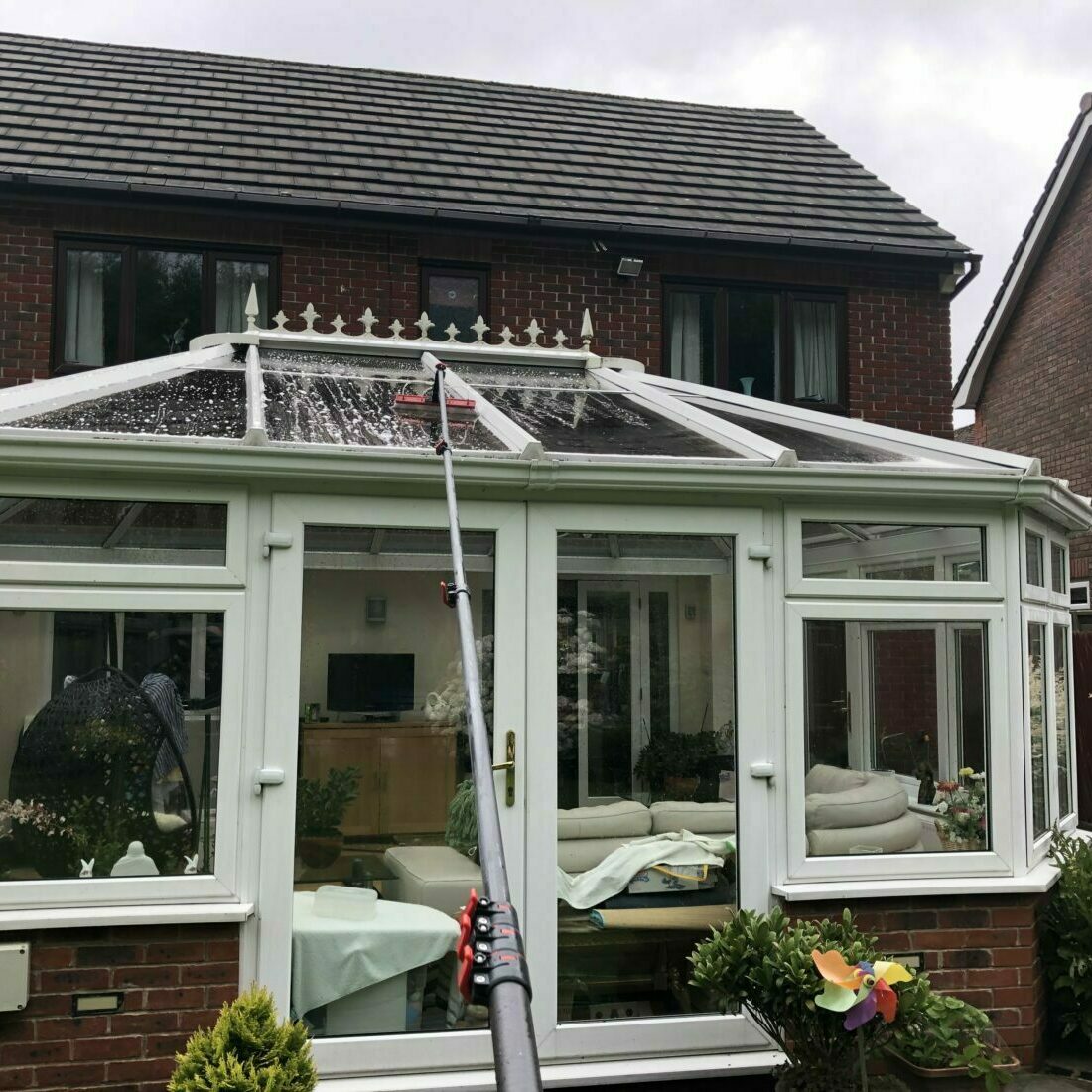 One-off Window Clean
We do not recommend one-off window cleans, however we do recognise that there is sometimes a need for this such as an end of tenancy clean or a sale of property etc. Three times longer than a regular maintenance clean. its very thorough with this clean and use chemicals which take time to work, then time to remove. We always presume that it's been either a long time since you've had your windows cleaned. We always presume that your previous Window Cleaner did not clean the frames. For this reason, we really concentrate on the whites of the windows.
We will always clean to our highest standards however we cannot clean away years of dirt that may have stained or damaged window frames or the glass. Glass is in fact porous so can end up being 'etched' by grime and sedimentent hence us not recommending just one-off cleans. The sills can also be damaged by dirt and sometimes scratches may seem to appear however this occurs the scum that has been lodged in grooves and in effect, hiding them from sight. With all this being said, the majority of the time your frames and glass will come up sparkling again with our one-off service.
Internal window cleaning
We only take internal cleaning on commercial jobs.